We've got some exciting news – 3D Planeta is now Terris.
We're still the same innovative and diverse company that we've always been – with a brand name to better reflect our vision as the new era of earth intelligence.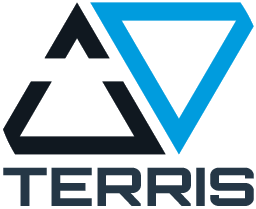 Terris is about earth.
The triangles are based on the alchemical symbols for the elements, representing air and water, above and below.
Depending on the rotation and reflection, all elements are represented. Centuries-old symbology with a modern, futuristic look.
The three points of the triangles represent our core brand promise to help our clients make better, faster critical decisions about key assets, infrastructure and areas anywhere on earth.
Our triple-powered earth intelligence marketplace and SAAS platform will change the way people buy, view, and analyze information from any place on earth. 
Welcome to the new era of earth intelligence on-demand.
Welcome to Terris.